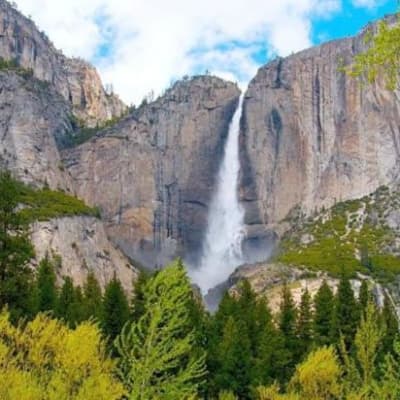 Yosemite National Park History
On June 30, 1864, amid the Civil War, President Abraham Lincoln signed the Yosemite Grant Act to protect Yosemite Valley and Mariposa Grove. From the beginning, this act was a legacy for our nation. Plunging waterfalls, stark granite, alpine lakes, pristine meadows, giant sequoia trees, and raging rivers--you'll find them all in Yosemite. From Yosemite Valley's famous waterfalls--three of which are among the tallest in the world--to the towering granite domes and glistening meadows of Tioga Pass, Yosemite is a place that can only be described in superlatives. At 1,200 square miles and 750,000 acres, the park is nearly the size of Rhode Island, and one of the most popular national parks in the United States. For more information and upcoming events celebrating 150 years of Yosemite's beauty, please visit the official website Yosemite 150th Anniversary
When to Go
Each month in Yosemite's calendar has its own myriad charms. Spring is a wonderful time for visiting Yosemite Valley, when its famous waterfalls are at their peak flow. First-time visitors would do well to time their initial Yosemite trip for April or May, when the Valley is at its most photogenic, the waterfalls are shimmering whitewater cascades, and the summer crowds have not yet arrived. The summer months from June to October are the only time that the entire park, including the high country (Glacier Point and Tuolumne Meadows areas), is open and accessible. Road closures and openings vary from year to year depending on snow conditions, but in most years all park roads are open by early June. Summer is, not surprisingly, the busiest season in Yosemite. Autumn and winter are the most peaceful seasons in Yosemite, and many would argue that they are the best. Lowest visitation levels in the park are recorded from November to March, except for around the holidays. Fall colors on the Valley floor are often spectacular. Winter snow changes the character and mood of the park. And there is much to do in Yosemite in winter; click on our winter activities page for details. To check the weather for specific destinations and road closures in the park, go to Yosemite Weather Map and select you chosen location.
What to Bring
You can purchase almost anything you might need in Yosemite Valley or the nearby town of Groveland, but here are some personal items you should pack along for your Yosemite trip:
Hiking boots or sturdy shoes for walking. Even people who have never hiked a trail in their entire life are often inspired to take a walk in Yosemite. Wear shoes that are worthy of the trail-regular sneakers or athletic shoes are not sturdy enough for most people!A small day-pack. Fill it with a bottle of water, a snack, and your camera.
Even if you don't go for a hike, you'll probably wander around Yosemite Valley during your visit and these items will come in handy.
A variety of clothing for layering. Weather conditions change constantly in the Sierra Nevada Mountains. It's smart to pack rain gear, jackets, and a variety of clothes for both warm and cool weather, even though you may get lucky and spend your entire vacation in shorts and a T-shirt.
Entrance Fees
There is a $30 entrance fee at Yosemite National Park, and it is good for seven days. Make sure you keep your receipt to show at the entrance stations every time you drive into or out of the park! If you plan to visit other U.S. national parks, or federal lands this year, save some money and buy a $80 National Parks and Federal Lands Annual Recreation pass. This pass is good at all U.S. national parks and federal lands across the country for one year from the date of purchase. You can also opt to buy a $60 Yosemite annual pass, which is good only at Yosemite for one year from the date of purchase. Finally, if you are 62 years of age or older, you can purchase a Golden Age pass for $10 in person, or $20 by mail, which is good at all U.S. national parks for the rest of your life!
Planning Your Days in the Park
We advise all Yosemite visitors, and especially first-time Yosemite visitors, to get informed before they travel. Yosemite is a huge park with hundreds of possible visitor activities and attractions; it's wise to have some idea of what you want to see and do before you arrive.
There are several ways to get information on the Park. First, visit www.yosemitehikes.com. This wonderful website gives detailed information and pictures on each trail and the amount of pedestrian traffic you are likely to encounter, as well as the ability to aerially zoom in on your area of interest. We also recommend Moon Handbooks: Yosemite by Ann Marie Brown. Small enough to fit in your day-pack or glove box, this unbiased guide tells all about Yosemite, from its natural and human history to where to locate an espresso stand, from hiking trail recommendations based on your fitness level to reviews of the park's restaurants.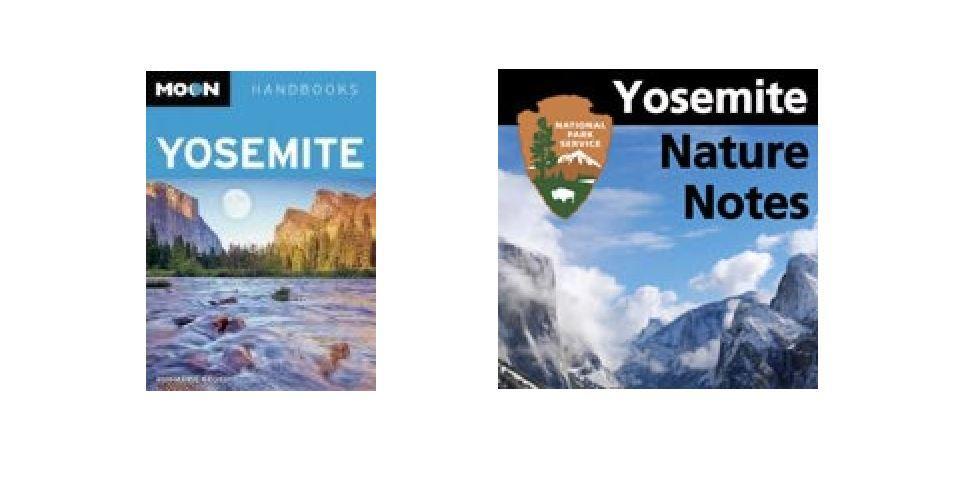 Rafting, fishing, art classes, bicycling, photography walks, rock climbing, touring by open-air tram, horseback riding, nature study.... all are possible in Yosemite, and this book details the "where, when, and how" of every possible visitor activity. Phone the Blackberry Inn to purchase a copy before your trip ($25 includes shipping in the United States; phone us for rates for international shipping). The book is also available at Amazon.com Do you have a limited amount of time and need help on choosing what to see in Yosemite? Go to https://www.nps.gov/yose/planyourvisit/placestogo.htm to help you decide. Of course, you can always phone the Innkeepers at the Blackberry Inn with any questions about trip planning!
Also, be sure to check out Yosemite Nature Notes a video podcast series that tells unique stories about the natural and human history of Yosemite National Park. Produced by the National Park Service, this series features park rangers, scientists, historians and park visitors as they discuss the diverse plants and animals that make Yosemite their home, as well as the towering cliffs, giant waterfalls and mountain peaks that are known throughout the world. This series is both informative and entertaining. We invite you to click on https://www.nps.gov/yose/photosmultimedia/ynn.htm and enjoy the show!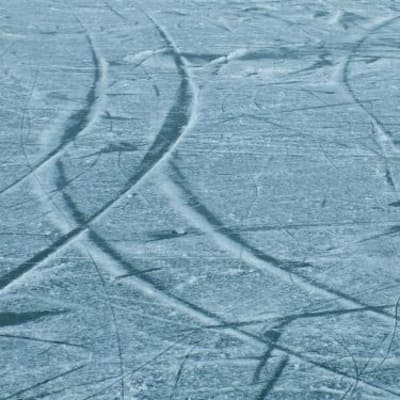 Winter Activities
Check Road Conditions The vast majority of Yosemite visitors go to the park in spring, summer, and fall. That means that the winter season is left to the rest of us, and we get to see the park at its most peaceful and serene. Be sure to carry chains, or check with us in advance to rent/reserve some. All the main roads are kept well plowed into the Park, except for Tioga Pass Road from Crane Flat to Lee Vining and the Glacier Point Road past Badger Ski Area. Both are closed in the winter. Do you wonder what activities are available near Yosemite during the winter? Here is a list of the Blackberry Inn's favorites below.
Go Ice Skating
From early November through March, weather permitting, Half Dome Village's outdoor ice skating rink is open daily. For more information call: 209.372.8333. Where else can you practice your figure-eights with a head-on view of Half Dome? Sessions are held in the afternoons and evenings on weekdays and from morning until evening on weekends ($9.75 adults; $9.25 children). Ice skate rentals are available for $3-4. If you find yourself falling down more often than you are performing graceful pirouettes, head for the warming hut's fire pit and snack stand and treat yourself to a cup of hot chocolate. The skating rink has a long history in Yosemite Valley. It was first constructed in 1928 by the Yosemite Park and Curry Company.
Go Snowshoeing
No experience required--it's as easy as walking. Snowshoe rentals are available from the Blackberry Inn, Curry Village Mountain Shop in Yosemite Valley, and various establishments in the town of Groveland. There is almost always plenty of snow near the Big Oak Flat entrance to Yosemite (a mere 20-minute drive from the Blackberry Inn). Our favorite close-by snowshoe trails include the Merced Grove of Giant Sequoias, the Tuolumne Grove of Giant Sequoias, the Crane Flat Fire Lookout, and Carlon Falls. If you'd like to snowshoe in Yosemite Valley, the best chance of good snow is in the canyon beyond Mirror Lake. A four-mile loop can be made from Mirror Lake up Tenaya Canyon. And at Badger Pass Ski Area, snowshoers share the trails with cross-country skiers to scenic destinations such as Dewey Point. Information on the Crane Flat winter trails can be found at Yosemite Plan Your Visit
Go Cross Country, Downhill Skiing or Snowboarding
Numerous cross-country ski trails are located 20 minutes from the Inn at Crane Flat. Badger Pass Ski Area is located in the southern region of Yosemite, a little more than an hour away from the Inn. Considered to be California's oldest ski resort, Badger Pass offers family-style skiing and snowboarding, with five lifts and 85 acres of slopes.
All skiing and snow play equipment, including snowshoes, can be rented at Badger Pass. For an update on ski conditions, phone 209.372.8430 or visit Yosemite Winter Planning. If you don't want to drive all the way to Badger Pass on snow-covered roads, leave your car in Yosemite Valley and take the shuttle bus that departs Yosemite Lodge every morning, then returns in the afternoon.
Take a Hike
A hike in winter? What about all that snow? Well, with elevations in the park ranging from 4,000 to 10,000 feet, there is almost always some place to hike where there is no snow on the ground. For a few short, easy strolls, head to Yosemite Valley and walk to the base of Bridalveil Fall or Lower Yosemite Fall, or head up to Mirror Lake. For something more ambitious, make your way to Vernal or Nevada Falls or ascend all or part of the trail to Upper Yosemite Fall. Or, ask your innkeepers about the wide variety of hikes right by the Blackberry Inn in Stanislaus National Forest. Many of these trails are snow-free year-round.
Hang out at the Ahwahnee
Think you have to be rich and famous to be a welcome presence at the Ahwahnee Hotel? Definitely not. The Ahwahnee's public rooms are just that-open to the public, not just to people who are staying at the hotel. Bring along a good book and find a soft chair near one of the massive fireplaces in the Great Lounge. Or, get yourself a drink or some appetizers at the Ahwahnee Bar (for a fraction of the price of what you'd pay at the Ahwahnee's famous restaurant) and listen to the piano player tickle the ivories.
Take a Guided Tour
Y explore Yosemite Adventures - Professionally Guided Hiking Tours and Photography Workshops in Yosemite National Park. Custom Tours in Yosemite National Park are available to Individuals, Families, and Groups of all ages and experience levels at all times throughout the year. They guarantee smaller group sizes for a more custom experience.
Summer Activities
Hiking
Ask your Innkeepers about special places to explore on foot inside and outside of the Park. They will be more than happy to suggest a trail for you. To make your stay more enjoyable, go to www.yosemitehikes.com for detailed trail information, aerial views and pictures of what you'll see on each hike. This is an invaluable resource to plan your days in Yosemite. HALF DOME CABLES DAY USE PERMITS: The National Park requires Day Use Permits seven days per week for climbing Half Dome cables during the summer season. Permits are available by reservation. Reservations for the permits can be made online here. Subsequent permits will be available at the beginning of each month for permits three months in advance. Each person climbing the Half Dome cables will be required to have their own permit. Up to four permits may be obtained under one reservation. Hikes in the area include, but are not limited to:
Grant Lake
Glacier Point
Mount Hoffman
Summit of North Dome
Nevada Fall
May Lake
Elizabeth Lake
Tuolumne Grove of Giant Sequoias
Merced Grove of Giant Sequoias