So there's a little rain in the forecast, don't panic just yet. There are tons of great activities to do in Yosemite even on the rainiest of days. Toss on a raincoat and head out for a hike, embark on the downtown Murphys wine trail, indulge on a grand dinner with a view, or learn about the history of the area at one of the informational and interactive museums in the area. There is so much to do, you'll never find yourself bored here!
Just because it is a little rainy out doesn't mean you have to miss out on exploring Yosemite. Hop in the car and drive around or sit back and relax on an educational bus tour through the park. Offered by the National Park Service, you can choose a quick 2-hour tour through the valley floor all the way up to an 8-hour grand tour that covers the entire park. You'll also learn about the unique geological history that created this stunning park and may be able to spot some rare birds with the help of the expert tour guides.
This educational nature center featured natural history exhibits focused on wildlife and educational displays about the four different environments within the park. Learn about what flora and fauna are in the area plus tips on how to distinguish them before heading out on a short interpretive walk through the woods. There are several signs and markers to help you identify plants, look for animal tracks, and listen for bird calls.
One of the most popular art galleries in the Sierra Nevadas, the Ansel Adams Gallery showcases work from local contemporary photographers and fine artists. Ansel Adams was a photographer and conservationist that was one of the first to document the unique geological formations and expansive wilderness that we know today as Yosemite National Park. You can view his slideshows and learn about his impact on the modern environmental movement in this expansive gallery. The gallery also hosts a myriad of events, classes, and art tours through the park. Take part on a camera walk and learn how to capture the essence of Yosemite with your own camera.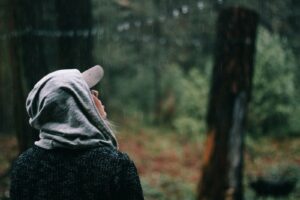 Take a Hike
For the brave of heart and stubborn; strap on your hiking boots, grab a pair of trekking poles, zip up your raincoat, and embark on a hike, rain or shine. Mirror Lake is a favorite for any day. You can hike 2 miles (each way) to the lake, or complete the 5 mile loop around the lake where you'll see Half Dome, Tenaya Canyon, Mount Watkins, and abundant wildlife. No matter the weather, you can expect to get wet on the Mist Trail, a trek through Yosemite's massive waterfalls. Walk 0.8 miles to the viewing footbridge, hike an additional 0.4 miles to the top of the falls, or complete the whole 5.4 mile round trip hike to the top of Nevada Falls. For a short hike, visit Merced Grove and wander through the old growth Sequoias.
Grab a bite to eat – with a view of course!
The views from The Ahwahnee Dining Room are arguably the best in the entire world. Enormous 30 feet high ceilings and massive windows give you an unparalleled view while you enjoy your incredible meal. Inside, the great fireplace and rustic chandeliers give you a feeling of grandeur that only a mountain lodge can provide. Call ahead and make a reservation as the dining hall is known to fill up fast and you won't want to miss out on this experience.
Visit Yosemite's Vineyards, Wineries, & Cellars
Is there anything more comforting than sitting back in a toasty tasting room, sipping on an award-winning wine, and watching the rain fall outside? Probably not. Use a rainy day as an excuse to explore all of the incredible wineries just outside of Yosemite National Park. The quaint town of Murphys is known as a destination for wine lovers. Cellars, tasting rooms, and wineries have taken over downtown. Milliaire Winery is the oldest family-owned winery in Murphys and has quite the reputation for incredible Zinfandels. Irish Family Vineyards has a wonderful indoor tasting room with barrels for tables and garden-like decor around the walls for an outdoorsy feel even on a dreary day. Lavender Ridge Vineyard Tasting Room has a grotto-style Rhone Room that makes you feel like you've been transported to the South of France.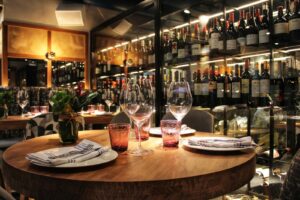 Visit a Museum
Before people traveled to the Sierra Nevadas for hiking and outdoor explorations, gold seekers migrated from all over the world to the area. The California State Mining & Mineral Museum documents the history of mining in the area and educated guests on the importance of mining and minerals to our everyday lives. The Groveland Yosemite Gateway Museum is a small yet thriving museum with displays ranging from exhibits on communities of the area to unique treasures found across the region, to historic preservation projects. Make a stop at this informative museum and you may just find a couple tips to exploring the park. Don't just learn about gold rush history, live it at Columbia State Historic Park. Pan for gold, barter with shopkeepers dressed in 1850's attire and grab a bite to eat at the local saloon.
If you are out hiking, biking, and climbing every day, then a rainy day may just be the perfect excuse to stay in and unwind. At the Blackberry Inn Yosemite, you'll want to sleep in and spend your day relaxing in your luxurious rooms and suites tucked away in the woods. Cozy up by the fireplace with a good read, take a bubble bath, sip on a glass of wine and watch the clouds roll over the mountains, and watch a movie that was filmed right here in the park. Classics like The Shining, Indiana Jones and the Temple of Doom, and Star Trek V were filmed in Yosemite Park. Re-watch these iconic films or look up one of the epic climbing documentaries following adventurists as they explore the park. The Dawn Wall on Netflix is a favorite amongst locals and visitors alike. The inn also has a wild collection of board games so you can let your inner child loose with a game of Uno or try a newer board game and spend the day laughing away.
A dreary, rainy day in Yosemite may just turn into your favorite day of your vacation with the help of a couple of these rainy-day activities. Whether you decide to unwind and sip wines all day, learn about the gold-rush history of California, take a photography lesson, or cozy up at our inn, you'll have a day for the books.
Don't let a little rain scare you away. Book a stay at the Blackberry Inn Yosemite, a luxurious Yosemite bed & breakfast offering country chic rooms and mountain views.