Yosemite has closed Glacier Point Road for construction repairs during 2022. That means that DRIVING access to the iconic views of the famous Half Dome and Clouds Rest from Glacier Point is completely cut off for the year. While some people may see this as a reason to skip a trip to the park this year, we see it as a blessing in disguise. There are numerous, lesser known, places to view and photograph the majestic Half Dome by driving to a different part of the park, or by hiking some famous and not-so-famous trails.
This is North Dome's year. The North Dome hike offers a chance for people to branch out, explore another part of the park, and take a more unique set of photographs. Note: If you really MUST hike to Glacier Point for those spectacular views, you can attempt the extremely strenuous Four Mile Trail but we truly recommend the North Dome option. It's a longer hike depending on where you turn around, but much less strenuous. The last 0.5 mile is a steep down and then up to the North Dome, but you can choose to stop before this little strenuous bit and still have wonderful views.
What Makes North Dome So Amazing?
The hike ends on top of a massive granite dome. Across the canyon it looks like you can reach out and touch Half Dome. The view is stunning.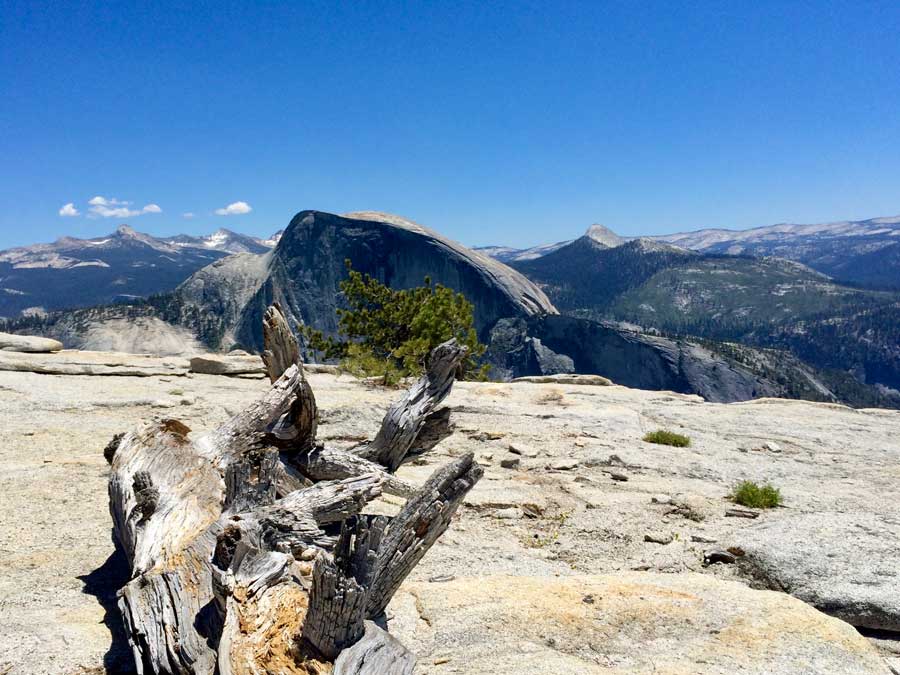 The crowd factor is negligible. You may run into one or two backpacking groups and a few other hikers.
From the top of North Dome you can also see Yosemite Valley, as well as Cloud's Rest, Illilouette Falls, Glacier Point, and, well…. an in-your-face Half Dome. Want to see what it's like virtually? Visit Virtual Yosemite
The trail is mostly in the shade and meanders through coniferous trees up and down hills, crosses a few streams, and traverses a granite ridge. Trail markings can get a little sketchy toward the end on the granite.
The wildflowers are amazing in the spring and early summer. The lovely snow plants are abundant along the trail and can be cooked like asparagus in case you forgot your lunch.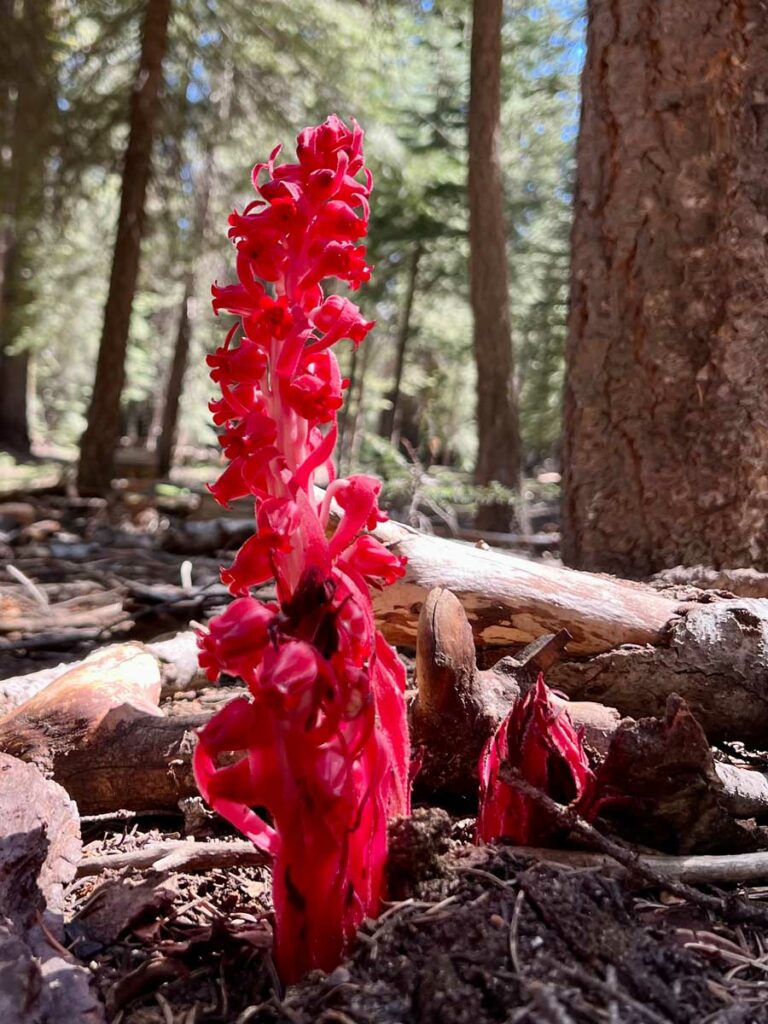 There is a short side hike to the only natural rock arch in the park. Indian Rock Trail is well marked and is only 0.6 miles roundtrip and is well worth it if you time have the time and energy.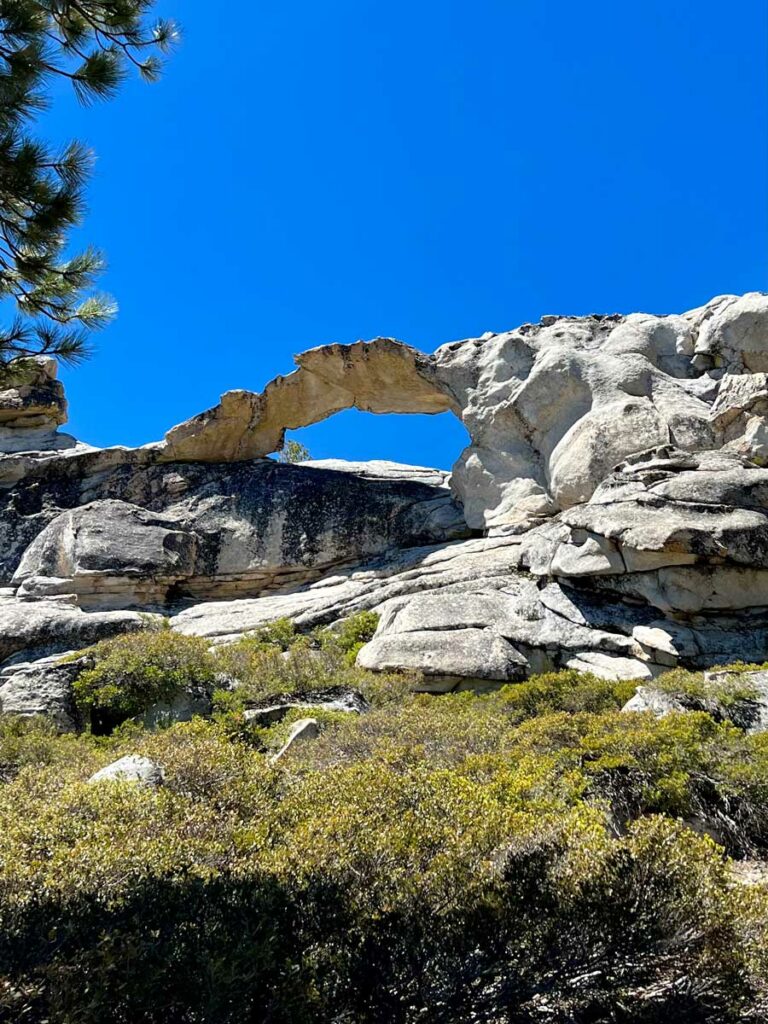 The hike is still of medium difficulty mostly because of the high elevation throughout the duration of the hike and the 500+ foot assent/descent at the approach to North Dome itself, which is optional. However, you don't have to worry about any cliff trails, nor 3,000+ feet of elevation assent/descent to get a photo-worthy view of Half Dome.
If you're really feeling industrious and fit, you can leave your car parked in Yosemite Valley and beg a ride to the trailhead. Once you've spent quality time on North Dome, instead of returning to Porcupine Creek, take the Rim trail over to Yosemite Falls, stopping by the Yosemite Point overlook, then continue the trail to the Valley Floor. If you've planned your day properly and you move along, you may find time to visit the Yosemite Lodge for a well deserved meal that you don't have to clean up for.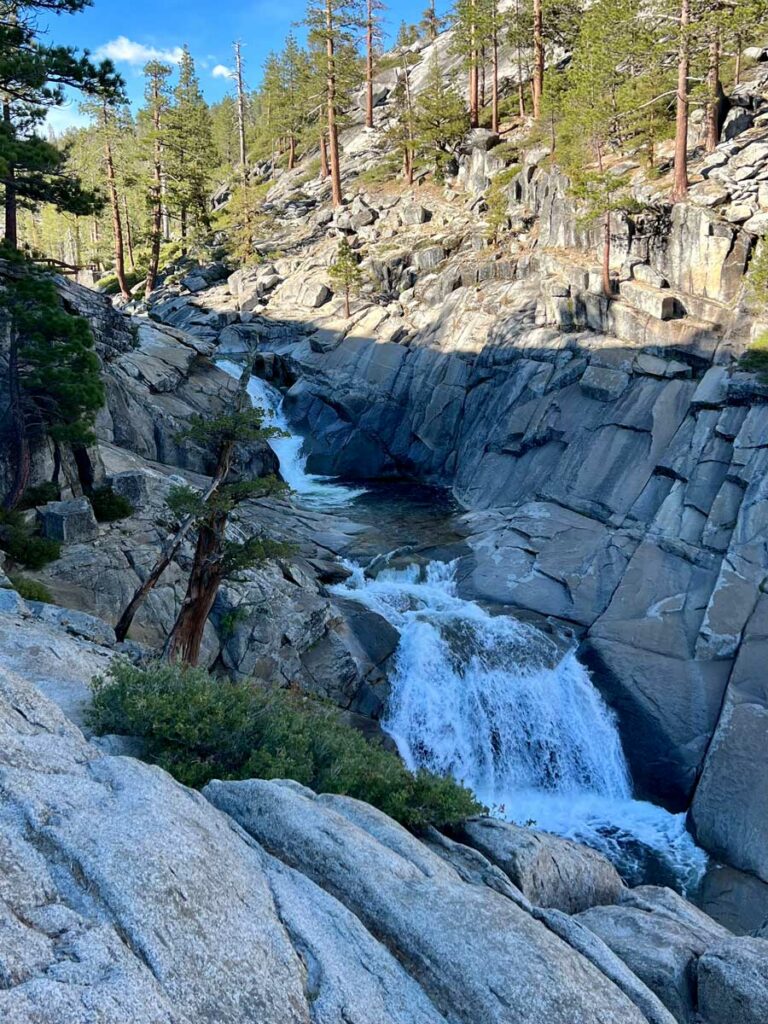 How to Access the Hike:
Park at the Porcupine Creek Trailhead on Tioga Road. The similarly named Porcupine Flat Campground is about a mile west. Make sure to go to the right place.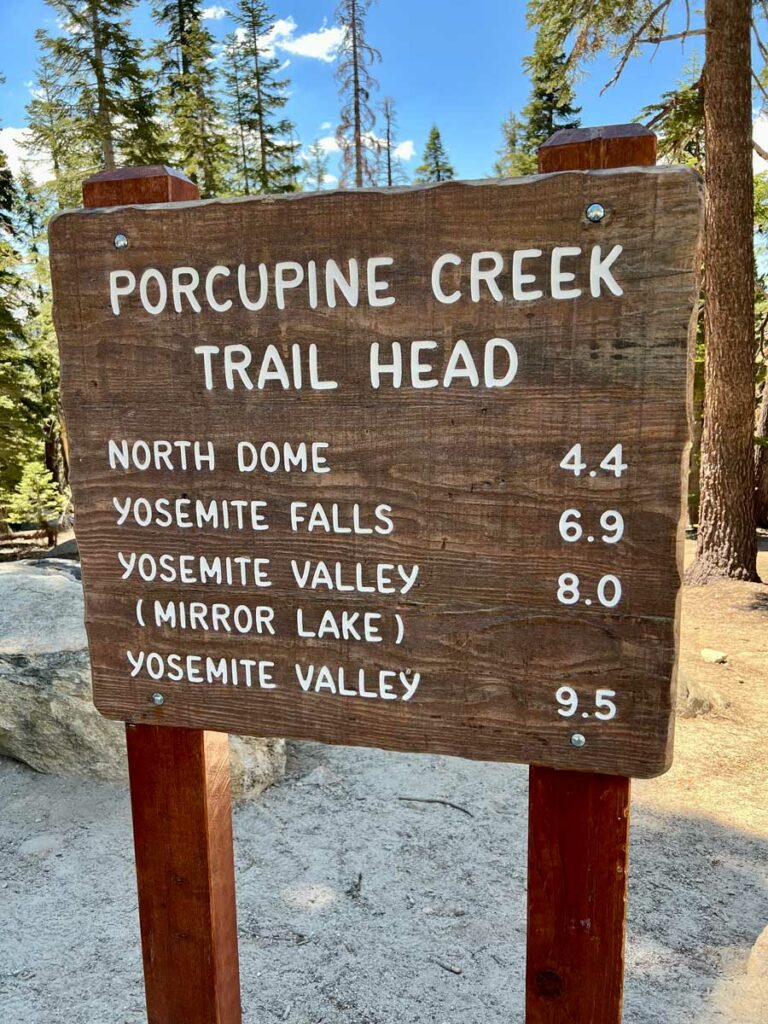 The hike is available when Tioga Road is open. The road is typically open from May to November but sometimes opens late or closes early due to winter conditions. The park maintains a page dedicated to road conditions to help you plan your trip.
From the parking lot, follow signs for North Dome. The first mile is on old, paved road. Eventually you'll switch to a well-worn dirt trail marked by cairns. There are several junctions with other trails along the way but signs will keep you on the right track.
How Long is the Hike to the North Dome?
The shortest option is about 8 miles roundtrip if you don't descend all the way to the top of North Dome.
The hike typically takes about four hours depending on your speed, how your body reacts to high elevations, and hiking ability. As with any hike, you should plan for things to take longer than expected. Remember that the journey to North Dome is part of the fun. Let yourself use four hours to get to North Dome and four hours to get back. Slow and steady allows you to see all the little details along the way.
Hiker's elevation change out and back to the Dome is around 1120 feet. If you choose not to hike the last part to the Dome, then it's substantially less. The trailhead elevation is 8100 feet and North Dome sits at 7,546 feet above sea level. Keep that in mind if you aren't accustomed to hiking at high elevations.
Tips for a Successful Day:
Take plenty of water with you and electrolytes.
There is a half-mile incline to the get back to the trailhead. Remember to keep some energy in reserve and save water for the trek back.
Bring snacks or even a picnic to enjoy atop the Dome before returning to your car.
Wear layers to accommodate for sun, wind, rain, or whatever else the trail throws at you.
Pack a headlamp and a first aid kit.
Keep an eye on the weather. The ridge and dome do not provide any protection from lightning, nor wind. It is recommended to start the hike early to avoid afternoon thunderstorms.
Did we mention that you should make sure to bring water? Two-three liters of water per person is a smart amount.
If you go early in the season, just after the Tioga Pass Road opens, then you may have to scramble over a couple of downed trees that haven't been cleared yet, across the trail on your way to the dome.
Don't forget a cap and sunscreen and wear comfortable hiking footwear.
Mosquito repellant is a must, especially at creek crossings.
Know Before You Go:
You must make a vehicle reservation if you plan to drive into, or through the park between 6am and 4pm. This applies to everyone visiting the park between May 20 and September 30, 2022. This reservation is in ADDITION to any annual, senior, or interagency passes you may have. Reservations for the year opened in March, but 30% of the slots are held until 7 days before the reservation date. Be sure to be logged into the reservation system at 8am Pacific daylight time to reserve your spot. Didn't manage to snag a reservation? Don't worry. You can still enter the park by arriving before 6am or after 4pm.
Watch Out for Bloodsucking Wildlife:
The mosquitoes are quite abundant, especially around the stream crossings, but you can minimize your chances of becoming their lunch with a little pre-planning. Spray Sawyer's Insect Repellent on your clothes the night BEFORE your hike to give it a chance to really soak in to the fabric. On the morning of your hike, use Jungle Juice on all exposed skin. Don't forget to bring some along to reapply as necessary. The alternative to spray is to bring a friend, or family member that the mosquitoes enjoy more than they do you. From around July 4th through the end of October, mosquitoes are much less of an issue.
Happy Hiking!